Who was Herman Wasserman?
Saturday, 27 June 2020
Probably relatively well-known in music circles in his day, Herman Wasserman seems to only pop up today in conversation associated with George Gershwin. It seems like he was also a teacher to Ferde Grofé, who orchestrated Gershwin's Rhapsody in Blue.
If you search library catalogs, he turns up as having edited George Gershwin's Song-Book as well as having arranged a simplified piano solo version of Rhapsody in Blue.
In the foreword of that version of Rhapsody in Blue, it claims:
Herman Wasserman is a pianist of international repute, sponsored in the United States by the Pulitzer family, the late Otto H. Kahn and Henry Seligman. He studied piano with Rafael Joseffy and Leopold Godowsky, theory and composition at the Royal Academy of Vienna. His superb concert transcriptions of American popular songs are gems of harmonic and polyphonic writing. Herman Wasserman has been acclaimed and recognized as one of the foremost pedagogues of the piano in this country. Among his many pupils were George Gershwin, Irving Berlin, Ferde Grofé; David Mendoza, Johnnie Green and Eddie Duchin.

Rhapsody in Blue, modified piano solo (1940)
It's not entirely clear how long and to what extent he taught Gershwin, given that Wasserman was only two years older than Gershwin and that Gershwin was known to have taken or sought lessons from many notable musicians. In George Gershwin: His Life and Work (pg. 35), there's only evidence that Gershwin knew Wasserman by the early 1920s, although Gershwin had started publishing music in 1916. Nonetheless, it no doubt benefited Wasserman's career to be able to claim a celebrity as a student.
An LA Times newspaper clipping announcing his death on 18 October 1957 lists his age as 62. A database entry on MyHeritage lists a Herman Wasserman (1896-1957) which seems to match.
The LA Times newspaper clipping (Sunday, 20 October 1957, page 44) can be found at:
https://web.archive.org/web/20200626184814/https://www.newspapers.com/clip/25427289/1957-oct-20/
The newspaper says that he was a Poland native, graduated from the Royal Academy of Music in Vienna, and came to the US after. It also lists famed Broadway composer Richard Rodgers as one of his students, which seems to be supported by other sources.
Knowing his death year helped turn up a WWII draft registration card on Ancestry.com for a Herman Wasserman: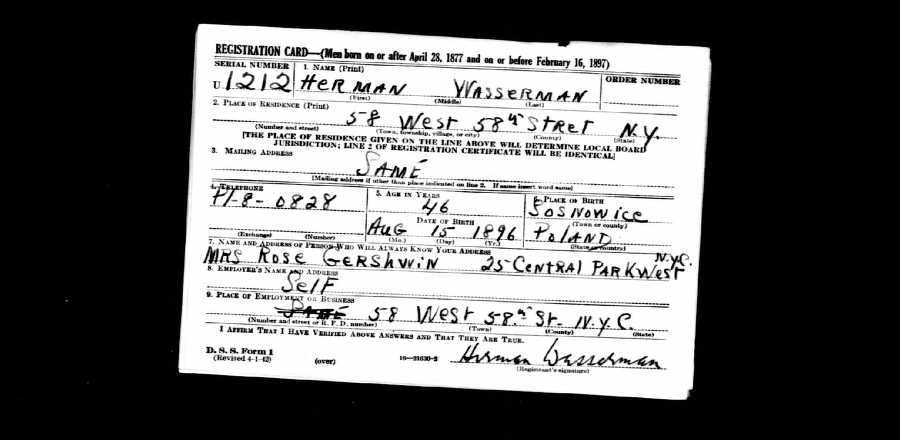 He apparently lists Gershwin's mother, Rose Gershwin, as his backup contact. (Update: Not that there was much doubt, but news articles confirm that the apartment at 25 Central Park West stayed in the Gershwin family into the 21st century.) Assuming that the DOB listed is correct, then he lived from 15 August 1896 to 18 October 1957.
He'll probably continue to be a footnote in biographies of famous composers, but hopefully these sources can outline the basic details of his life for anyone else who looks for it.