Don't buy from Musicnotes.com
Saturday, 10 January 2009
Update (2019): This blog post is now 10 years old! Musicnotes.com has probably changed in the past 10 years, so anything I have written here is probably out of date.
Let me list all the reasons why you might want to buy digital sheet music from Musicnotes.com:
It's faster than having it shipped from Pepper's.
and that's pretty much it.
On the other hand, here's some reasons to avoid Musicnotes.com:

You are forced to use their software
Musicnotes.com's scores don't come in any ordinary file. You must use either their Musicnotes Viewer or the Sibelius Scorch plug-in, depending on the score. This means that you're stuck with whatever operating system and browser they support; if you happen to be using different software, then you're out of luck.
A Ridiculous DRM System
Of course, they have you use their software for a reason: DRM. For the technologically-insulated people I envy, DRM stands for Digital Rights Management. They dictate how you can use the music. For Musicnotes.com, you are forced to print your only copy as soon as you download the music. If your printer broke or ran out of ink or computer died, then you've just thrown your money down the drain. The only recourse is to repurchase the score. Yes, if it didn't print right the first time, you're screwed.
This brings me to my next point: you can only print out one copy. You might think that the benefit of having a digital copy of your sheet music would be that you can print out as many copies as you want, but that's not true with Musicnotes.com. Obviously, the people running Musicnotes.com must be brain-dead if they didn't realize that you could simply pop those print-outs into a copy machine.
Score quality
Of course, any scores you print out on your cheap inkjet printer or get from the copy machine won't be the best quality, but that's OK because Musicnotes.com's scores are ugly to begin with. How about an analogy? Imagine a finely-printed, sturdily-bound book of classic literature. Now imagine the same contents, except typed in Microsoft Word by a rank amateur. That's exactly the way it is with the traditional engraved scores that you might find at Pepper's versus a digital Musicnotes.com score.
You might think that the advent of computers would have increased the quality of musical scores, but the exact opposite is true, not only for music but also for general typography. When computers became popular, more and more people could use the new graphical word processors and type their own documents. Of course, most people don't know the first thing about typography: How wide should a page be? What to choose for leading? What's the difference between a font and a typeface? Times New Roman… isn't that what everybody uses?
The truth is, both musical scores and books used to be done by hand by trained professionals. In the same way a printer would set a block of type to print books, an engraver would engrave a metal score to be printed. Nowadays, in the rush to computerize everything, quality has been thrown out the window.
Compare Rhapsody in Blue (a complex score) from Musicnotes.com: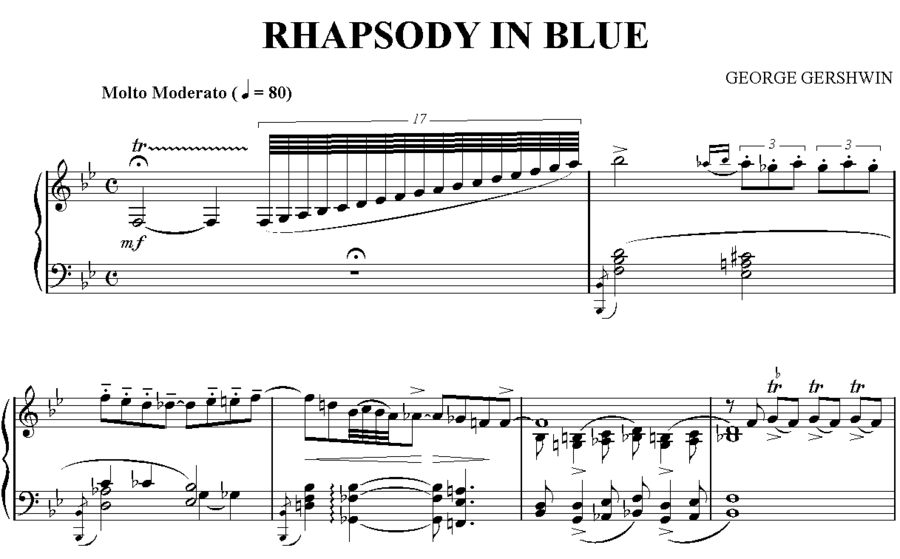 and from a real score: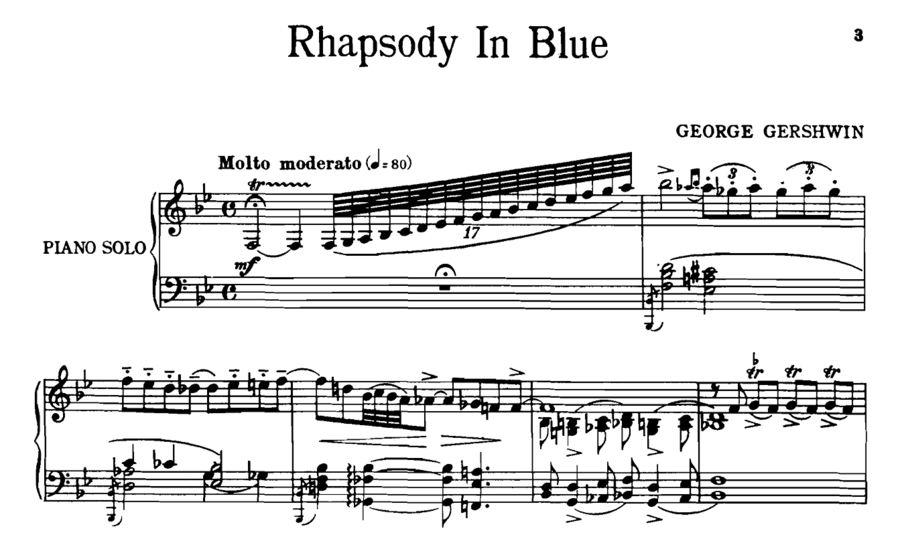 If there ever was a way to suck the soul out of Rhapsody in Blue before a single note is played, Musicnotes.com has found it. The ghastly mechanical engraving leaves excessive white space everywhere, and the stems and staff lines are razor thin. Oh, actually having their software play this digital score is a supreme letdown, since the software doesn't do trills, grace notes, or anything besides the most simple notation.
Conclusion
Call me picky for my attention to score quality if you like, but if their harsh DRM system hasn't scared you away, I don't know what will. C'mon, a single print per purchase? Musicnotes.com expressly states that their online store is like a real store: when you walk into your nearest music store and purchase sheet music, you get one copy and if you pour coffee over your one copy, then you're out of luck. What they don't say, is that if you actually go to a real store, you will not only get to look at all the music before you purchase, but you will actually get a nicely-bound, quality copy that was professionally (or at least acceptably) printed on something other than an inkjet printer.
If you're looking for sheet music on your computer, I recommend IMSLP. IMSLP is a massive collection of public-domain sheet music that's absolutely free to download, not to mention that they're a good, non-profit cause.
If the convenience of the digital age coupled with a wide selection is what you were after, then maybe you should look around the Internet. Who knows what you might find?